---

1) SS 72 Cell 6 BB Series
Next Generation 6 BusBar Solar Modules
Solar panels work by converting light photons into electricity through the solar photo-voltaic (PV) effect.
This allows for direct conversion of sunlight into solar power, or electricity. Solar panels use layers of semi-conducting material, most commonly silicon. PV's are measured by kilowatts peak (KWp).
High Savings – Save more on your electricity bills.
Renewable Energy Source – It uses energy from direct sunlight.
Energy Benefits – Sell the electricity you produce in surplus back to the grid.
2) SS 72 Cell 6 BB Series
Next Generation 6 BusBar Solar Modules
New 6 Busbar design for more power and better reliability. The narrower distance between the busbar allows better flow of electrons and reduces power loss. Can decrease the risk of the cell Micro cracks and and broken finger.
Reduces edges and avoids dirt and moss build up.
High Quality anti-reflection technology processed via the soil-gell roller coating methods that directs more light on solar cell for high energy yeilds.
REC solar panels come standard with comprehensive warranties that provide value-adding security you can depend on.
25-YEAR LINEAR POWER OUTPUT WARRANTY Ensures that your REC solar panels will perform exactly as they are expected to – every year for 25 years.
10 YEAR PRODUCT WARRANTY Promises that the workmanship and materials of the panels themselves maintain their superior quality for 10 years.
Spark Solar is a globally renowned Indian manufacturer of highperformance solar panels. Capitalizing on its strength in solar panel manufacturing, it is committed to provide panels with unparalleled efficiency, and reliability to enable customers to maximize the returns on their PV projects. With its leading industry experience, continuous effort on R&D, and customer-oriented service Spark Solar is your most trustworthy long-term partner
Proven Consulting Services is a EPC partner for SPARK Solar and one of the leading consulting company, which is combination of consulting with technological expertise ,it has multidiscipline engineering company with global reach who set a standard in quality ,cost effective solutions with innovative ideas to all projects through application of PROVEN solutions available globally.
1) GLASS
The Glass used in solar panels are made such that they reflect as little sunlight as possible, through the use of anti-reflective coatings and other such techniques. Glass is designed to optimize solar energy conversion while providing long term protection against external conditions.

2) BACKSHEET

A solar panel backsheet is the cover you see on the back side of a solar panel. It is the last layer at the bottom most of the solar panel, and is typically made of a polymer or a combination of polymers – polyesters, polyamides or flouride-based polymers.

3) SOLAR CELLS

Silicon photovoltaic cells or PV cells convert sunlight directly into DC electrical energy. The performance of the solar panel is determined by the cell type and characteristics of the silicon used, with the two main types being monocrystalline and polycrystalline silicon.
4) EVA
EVA(Ethylene Vinyl Acetate) is an encapsulant for solar Cells/ Modules. It is a copolymer film which acts as an essential sealant of photovoltaic solar modules for ensuring the reliability and performance.



5) JUNCTION BOX

An electrical junction box is a container for electrical connections, usually intended to conceal them from sight and deter tampering. In the case of the solar module junction box, the electrical connections from the solar panels will placed in the junction box.



FRAME

The Aluminium frames around the solar panel, hugging the glass covering on top and the backsheet at the bottom, has been an important, though often ignored component of a solar panel. While there are now frameless solar panels available in the market.
Panels using the latest innovations in Market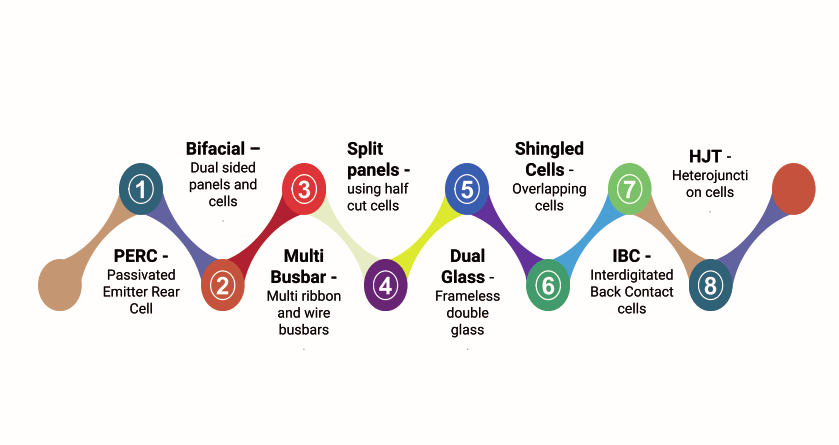 Spark Solar is a globally renowned Indian manufacturer of highperformance solar panels. Capitalizing on its strength in solar panel manufacturing, it is committed to provide panels with unparalleled efficiency, and reliability to enable customers to maximize the returns on their PV projects. With its leading industry experience, continuous effort on R&D, and customer-oriented service Spark Solar is your most trustworthy long-term partner